A U.S. soldier places flags at some of the over 200,000 tombstones at Arlington National Cemetery. Since the U.S.-led invasion in March 2003, at least 1,647 American military personnel have lost their lives in Iraq. It is not known how many Iraqis have died. 184 American military personnel have died in Afghanistan.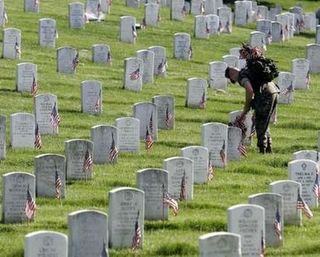 Iraqi female lawmaker Lamia Abed Khadouri al-Sakri gunned down in her home April 27, 2005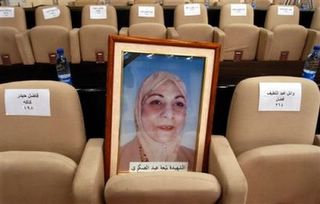 Audrey Daron Lunsford, 29 killed when a bomb exploded Monday, May 23, 2005, in Haswa, about 30 miles south of Baghdad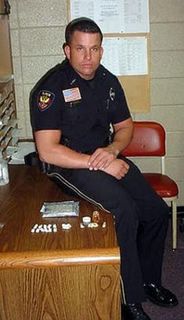 An Iraq policeman displays a photo of a slain colleague on his motorcycle after a roadside bomb attack in the northern town of Duhok May 25, 2005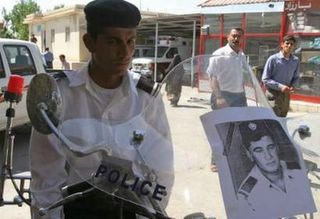 Sgt. Charles T. Wilkerson, 30, of Kansas City, Mo. based at Fort Carson, Colo. was killed when an unknown device exploded near his tent in Iraq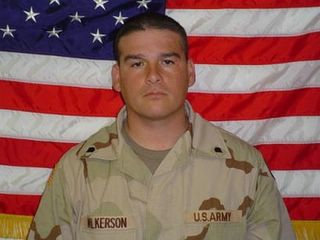 Celeste Zappala, center, and her son Dante Zappala, right, protest against the war in Iraq, as Defense Secretary Donald H. Rumsfeld spoke at a luncheon for the World Affairs Council, Wednesday, May 25, 2005, in Philadelphia. Celeste is holding a photo of her oldest son who was killed in Baghdad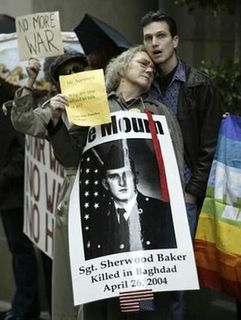 Memorial service for Marine John Spahr and Marine Captain Kelly Hinz, Thursday, May 26, Hinz and Spahr died earlier this month when their single-seat F/A-18 Hornet jets collided over south-central Iraq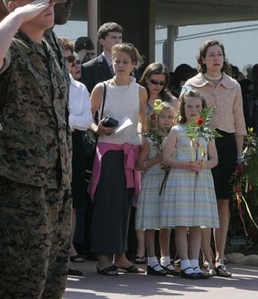 Mourners carry the coffin of Moussa Saloom, right, the deputy head of the education college at Baghdad's Al-Mustansiriya University, past the university during his funeral in Baghdad, Iraq Thursday, May 26, 2005.He was killed by gunmen while driving to work.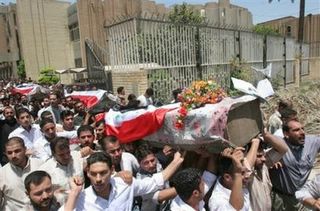 Husam Abdul-Zahra, 17, left, grieves with his friend Haidar Hussein, after Husam was wounded and two of his brothers were killed when the minibus they were travelling in was attacked near the previous al-Rasheed Camp in southeastern Baghdad Thursday, May 26, 2005.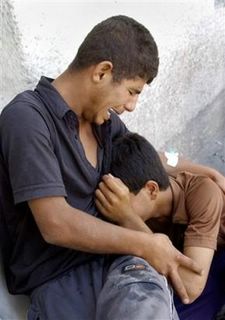 Emily Dieruf from Lexington, Kentucky reacts after finding her husband's dog tag at Camp Pendleton memorial service May 26, 2005.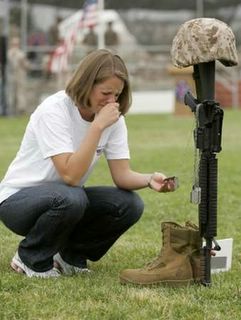 U.S. Army Staff Sgt. Russell J. Verdugo, 34, is shown in Afghanistan. Verdugo died Monday, May 23, 2005, in Baghdad, Iraq, while on an assignment to remove a makeshift explosive.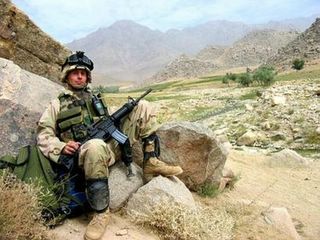 Members of the 1st Marine Division bow their heads in prayer during a memorial service for in honor of soldiers who were killed in Iraq, May 26, 2005