On Wednesday April 13 The
General
brought attention to an LGFers' website called Aaron's Case. It featured catwear (as in CAT bulldozers) as a way to cellebrate the killing of Rachel Corrie by a CAT made Israeli bulldozer. Like this 'I Love Big Cats' mousepad: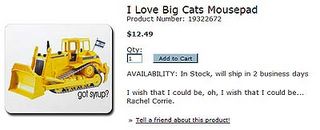 Atrios
linked to the Generals post. (Titled "Fashion" on Wed April 13 @ 4:51)
I think a few e-mails went out to CAT as a result of the 2 postings and lo and behold.......
No more 'I Love Big Cats' at Aaron's Case. If you
go to that page
you won't find any CAT items for sale. Last week he had all kinds of CAT merchandise at that page.
I think the emails must have had the needed effect at CAT. Ya think Aaron got a letter from a CAT attorney???